GOING ABOVE AND BEYOND OUR COMPETITION SINCE 1994
SERVICING PENNSYLVANIA, DELAWARE & NEW JERSEY
Thank you for contacting Jim Miller Roofing, a representative will contact you shortly.
Why Use Jim Miller
The Many Reasons You Should Choose Us for Your Roofing Needs
A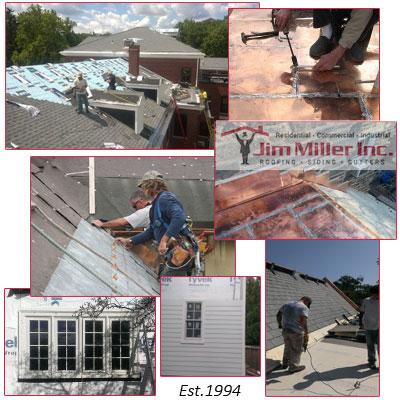 t Jim Miller Roofing, we are certain that our services are above and beyond those of our competition. Because weve been in business since 1994, we have completed thousands of projects including work for local township and county owned buildings. Because of our ongoing training, commitment to exceeding our customers expectations and the number of homes and businesses we have served in the past twenty years, we are among the top 3% of GAF and Certainteed roofing installers in the country. We wanted to give you the top 4 reasons why you should choose us when looking for someone to install roofing, gutters, or siding.
1. Trustworthy Service and Complete Insurance Coverage
We are fully bonded and insured, which gives your installation full protection.
Our insurance protects your property with 5 million dollars of liability coverage.
We have a history and a future in making homes more beautiful and customers completely satisfied.
2. Getting What You Paid for: Quality
We only offer the best quality materials, so there is no need to risk choosing a substandard product.
Our employees are factory-certified by the Certainteed & GAF ensuring proper installation.
All work carries a full non pro rated 25 year labor & material guarantee back by GAF or Certainteed.
3. The Best Protection for Your Property
We provide materials that will protect your home as a roof is supposed to.
The Weather Stopper Integrated Roofing System provides superior defense from weather, pests, and debris.
We offer extended protection with the best warranty in the business: the Smart Choice System Plus Ltd.
4. No Fuss and no Hassle
Our celebrated customer service will make choosing the right roofing system for your home a breeze.
We work with you to find an easy and affordable payment plan that is right for your budget.
You satisfaction is 100% guaranteed and we do not accept deposits ever. We know you will be more than happy to pus us upon completion of work. We are financially secure and do not need deposits to buy materials or pay our workers.
Making the Best Roofing Decision
Mark Morris Senior Estimator, We provide the best possible service and install the highest quality products in the country. Whether you need to complete a commercial or residential roofing project, we are your go-to roofers. Our training, dedication to safety, insurance protection, and customer service recommend us as an excellent choice for your specialized construction needs.
Call for an Appointment
Jim Miller Roofing serves the western Philadelphia suburbs, Delaware and New Jersey. To call for an appointment or to get started on your roofing project, call (484) 412-8246 to speak to a representative.
PAY UPON COMPLETION
If you choose us, you will not pay a cent until the work on your property has been fully completed and you are 100% satisfied.
We will never subcontract your project out to a firm with lesser skills; all installations will have a Project Manager assigned to you.
Along with our satisfaction guarantee, we offer you the best roofing warranty in the business. If your installation fails, you are entitled to 20-50 years of full labor and material. This warranty is offered by only 3% of roofers in the entire country and is backed by both GAF and CertainTeed materials manufacturers.
GLADLY ACCEPTING
THESE CREDIT CARDS